牛黃解毒丸 Niu Huang Jie Du Pian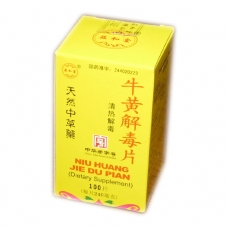 Product Code:
YH007
Reward Points:
0
Availability:
In Stock
Price:
$7.75
$5.75
Ex Tax: $5.75
This product has a minimum quantity of 12
成份: Ingredients: 牛黃,雄黃,石膏,大黃, 黃芩,桔梗,甘草。Artificial ox-gallstone, Realgar, Gypsum, Medicinal Rhubarb root and rhizome, Baikal skullcap root, Balloonflower root, Ural licorice root. 作用: Actions: 本產品適應於保持內耳,口腔,牙齒,喉腔等部位的健康及有利腸胃系統及呼吸系統的保養.Supports the health of the innerear, mouth, teeth, throat, and salivary glands, and the gastrointestinal and respiratory system. 警告: Warnings: 孕婦切勿使用, 避免食用刺激性食物,不能長期服用或超出建議量, 存放於兒童不能接觸的地方.Do not use if You are pregnant. Avoid pungent food. Not recommended for long term use. KEEP OUT OF REACH OF CHILDREN. Availability: Usually ships in 1-2 business days. Ship Weight: 0.5 lb. 100 片/Tablets x 240 毫克/mg 根據美國醫藥衛生條例,以上中醫藥理並未經美國食品及醫藥局正式評估,因此,本品不宜作診斷,治療,治癒或預防任何疾病之用. This statement has not been evaluated by the Food and Drug Administration. This product is not intended to diagnose, treat, cure, or prevent any disease.
Write a review
Your Name:
Your Review:
Note: HTML is not translated!
Rating:
Bad
Good
Enter the code in the box below: