金雞片 Jinji Pian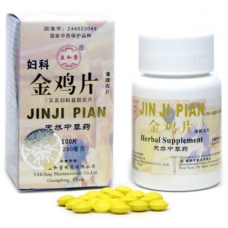 Product Code:
NYH003
Reward Points:
0
Availability:
In Stock
Price:
$7.75
$6.75
Ex Tax: $6.75
This product has a minimum quantity of 12
成份: Ingredients:
金櫻根,雞血藤,兩面針,功勞木,千斤拔,穿心蓮. Cherokee rose root, Suberect spatholobus stem, Shinyleaf pricklyash root, Leatherleaf mahonia stem, Philippine flemingia root, Common andrographis herb.
作用: Actions:
清熱解毒,健脾除濕,通絡活血。適應於女性生殖系統的健康功能. Support the health of the circulatory and female reproductive system.
警告: Warnings:
孕婦慎用, 不能長期服用或超出建議量, 存放於兒童不能接觸的地方. If You are pregnant,ask a doctor or pharmacist before you use. Not recommended for long term use. KEEP OUT OF REACH OF CHILDREN.
服用方式 DIRECTIONS: 口服,一次6片 ,每日3次.Oral. 6 tablets , 3 times a day.
Availability: Usually ships in 1-2 business days.
Ship Weight: 0.3 lb.
100 片/tablets x 280 毫克/mg
根據美國醫藥衛生條例,以上中醫藥理並未經美國食品及醫藥局正式評估,因此,本品不宜作診斷,治療,治癒或預防任何疾病之用. This statement has not been evaluated by the Food and Drug Administration. This product is not intended to diagnose, treat, cure, or prevent any disease.
Write a review
Your Name:
Your Review:
Note: HTML is not translated!
Rating:
Bad
Good
Enter the code in the box below: