維C銀翹片 Cold Remedy Soothing Tablet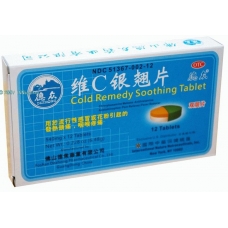 Product Code:
VC-012
Reward Points:
0
Availability:
In Stock
Price: $7.75
Ex Tax: $7.75
12 or more $5.75

This product has a minimum quantity of 12
成份: Ingredients: Lonicerae Confusa DC、 Weeping Forsythia Capsule、 Fineleaf Schizonepeta Herb、 Prepared Soybean、 Lophatherum Herb、 Great Burdock Achene、 Reed[Rhizome、 Platycodon Root、 Radix Glycyrrhizae、 1 Vitamin C、 Peppermint Oil、 Cornstarch、 Microcrystalline Cellulose、 Stearic Acid、 Silicon Dioxide、 Magnesium Stearate、 Betadex、 Lactose、 Maltodextrin、 FD&C Yellow No.6. FD&C Green. 山銀花、 連翹, 荊芥、 淡豆豉、 淡竹葉、 牛蒡子桔梗、 甘草、 維生素C、 薄荷素油, 玉米粉、 微晶纖維素、 硬脂酸、 二氧化矽、 硬脂酸鎂、 倍他環糊精、 乳糖、 麥芽糊精FD&C黃色6號, FD&C綠色3號。 作用: Actions: Temporarily relieve the following symptoms associated with the common cold、 hay fever、 or othei。upper respiratory allergies: ' 暫時舒緩傷風、 花粉熱或其他上呼吸道引起的下列癥狀■ Fever發熱■ Itching of the nose or throat鼻或喉發展■ Minor aches and pains輕度酸痛■ Sneezing打噴■ Muscularaches肌肉酸痛■ Headache頭痛■ Runny nose流鼻涕■ Itchy、 watery eyes發癢流涙■ Sore throat喉痛。 注意事項: Warnings: 如封印紙有損壞請不要使用.保持密封,存放於陰涼乾燥的地方存放於兒童不能接觸的地方. Do not use if cap seal is broken, keep tightly closed and store in a cool, dry place. Availability: Usually ships in 1-2 business days. Ship Weight: 4 oz 12 Tablets(0.54g/each) Net Wt:0.228oz(6.48g) 根據美國醫藥衛生條例,以上中醫藥理並未經美國食品及醫藥局正式評估,因此,本品不宜作診斷,治療,治癒或預防任何疾病之用. This statement has not been evaluated by the Food and Drug Administration. This product is not intended to diagnose, treat, cure, or prevent any disease.
Write a review
Your Name:
Your Review:
Note: HTML is not translated!
Rating:
Bad
Good
Enter the code in the box below: