咳必清濃縮液 Ebiqing Enriched Syrup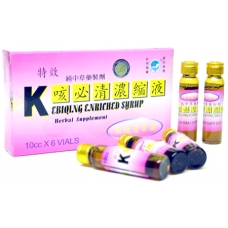 Product Code:
NYF-1002
Reward Points:
0
Availability:
In Stock
Price: $7.75
Ex Tax: $7.75
12 or more $5.75

This product has a minimum quantity of 12
成份: Ingredients:
甘草,生石膏,瓜萎,五味子,杏仁,矮地瓜,陳皮,滿山紅,百部等.Chinese Licorice root & Rhizome, Folium Pyrrosiae, Trichosanthes Fruit, Schisandra Fruit, Apricot, Herba Ardisiae Japonica, Tangerine Dried rind of mature Fruit, Folium Rhododendron Daurici, Stemona Root Tuber.
作用: Actions:
適應於傷風感冒及季節性花粉症所引起的咳嗽,肺寒,肺熱咳,咳痰不止,老年咳等.Helps support the health of the throat and the respiratory system.
警告: Warnings:
存放於兒童不能接觸的地方. KEEP OUT OF REACH OF CHILDREN
Availability: Usually ships in 1-2 business days.
Ship Weight: 0.5 lb.
6瓶/Vials x 10 cc
根據美國醫藥衛生條例,以上中醫藥理並未經美國食品及醫藥局正式評估,因此,本品不宜作診斷,治療,治癒或預防任何疾病之用. This statement has not been evaluated by the Food and Drug Administration. This product is not intended to diagnose, treat, cure, or prevent any disease.
Write a review
Your Name:
Your Review:
Note: HTML is not translated!
Rating:
Bad
Good
Enter the code in the box below: