梁財信跌打丸 Liang Caixin Dieda Wan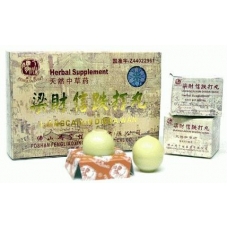 Product Code:
FLX-1002
Reward Points:
0
Availability:
In Stock
Price:
$13.75
$10.75
Ex Tax: $10.75
12 or more $10.75

This product has a minimum quantity of 12
成份: Ingredients: 三棱,莪術,延胡索,五靈脂,大黃,徐長卿,骨碎補,續斷,蒲黃,防風,牡丹皮.Common burreed rhizome, Turmerjc rhizome, Yanhusuo rhizome, Trogopterus dung, Medicinal rhubarb root and rhizome , Paniculate swallowwort root, Fortun's drynaria rhizome, Himalayan teasel root, Longbract cattail pollen, Divaricate saposhnikovia root, Subshrubby peony flower, 作用: Actions:  梁財信跌打丸為中國傳統純中藥製劑,適應於維持骨骼,關節,肌腱及循環系統的健康. Liangcaixin Dieda Wan is a Chinese Traditional herbal supplement to maintain the health of the bones, joints ,tendons, muscles and the circulatory system. 警告: Warnings: 孕婦不能使用,不能長期服用或超出建議量,如封印紙有損壞請不要使用.保持密封,存放於陰涼乾燥的地方存放於兒童不能接觸的地方. Do not use during pregnancy. Not for long term use or for use in excess of recommended serving size. Do not use if cap seal is broken, keep tightly closed and store in a cool, dry place. Availability: Usually ships in 1-2 business days. Ship Weight: 0.4 lb. 每盒6 丸 x 600毫克 Each box 6 pill x 600 mg 根據美國醫藥衛生條例,以上中醫藥理並未經美國食品及醫藥局正式評估,因此,本品不宜作診斷,治療,治癒或預防任何疾病之用. This statement has not been evaluated by the Food and Drug Administration. This product is not intended to diagnose, treat, cure, or prevent any disease.
Write a review
Your Name:
Your Review:
Note: HTML is not translated!
Rating:
Bad
Good
Enter the code in the box below: