傷濕止痛膏(強力)Shang Shi Zhi Tong Medicated Plaster (Extra Strength)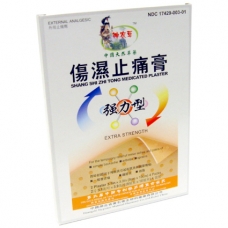 Product Code:
NHS-02
Reward Points:
0
Availability:
In Stock
Price: $7.75
Ex Tax: $7.75
This product has a minimum quantity of 12
成份: Ingredients:薄荷腦,樟腦,冬青油,蕓香浸膏,Menthol, Camphor, Methyl Salicylate, The extract of herbal rue.
作用: Actions:
暫時舒緩因一般酸痛,關節炎,扭傷,挫傷所引致的肌肉告關節酸痛.For temporary relief minor aches and pains of muscles and joints due to: Simple backache, Arthritis, Sprains, Bruises,
警告: Warnings:
只供外用,孕婦須請教醫生方可使用,存放於小孩觸摸不到之處,如封印有損,不要使用.請保持密封,存放於陰涼乾燥的地方.For External use only. Pregnant or lactating women consult a physician before use. keep this product out of reach of children. Do not use if the seal is broken. Keep tightly closed and store in a cool, dry place.
Availability: Usually ships in 1-2 business days.
Ship Weight: 0.2 lb
2片/Plaster x 4袋裝/Packs 3.1" x 3.9"
根據美國醫藥衛生條例,以上中醫藥理並未經美國食品及醫藥局正式評估,因此,本品不宜作診斷,治療,治癒或預防任何疾病之用. This statement has not been evaluated by the Food and Drug Administration. This product is not intended to diagnose, treat, cure, or prevent any disease.
Write a review
Your Name:
Your Review:
Note: HTML is not translated!
Rating:
Bad
Good
Enter the code in the box below: