加味霍香正氣丸 Hou Xiang Zheng Qi Wan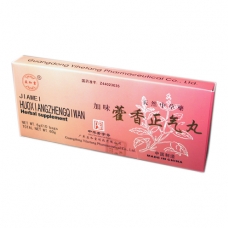 Product Code:
YH008
Reward Points:
0
Availability:
In Stock
Price:
$7.75
$5.75
Ex Tax: $5.75
This product has a minimum quantity of 12
成份: Ingredients: 廣霍香,紫蘇葉,白芷,白術,陳皮,半夏,茯苓,桔梗,大腹皮,生薑,甘草,大棗. Cabin potchouli herb, Common perilla leaf, Dahurian angelica root, Largegead atractylodes rhizome, Tangerine peel, Ternate pinellia rhizome, Indian bread, Balloom flower root, Betelnut palm pericarp, Common ginger rhizome, Ural licorice root, Common jujude fruit. 作用: Actions: 適應於腸胃的健康.Support the health of the Gastrointestinal system. 警告: Warnings: 存放於兒童不能接觸的地方. KEEP OUT OF REACH OF CHILDREN. Availability: Usually ships in 1-2 business days. Ship Weight: 0.3 lb. 10小包/bags x 10 克/g 根據美國醫藥衛生條例,以上中醫藥理並未經美國食品及醫藥局正式評估,因此,本品不宜作診斷,治療,治癒或預防任何疾病之用. This statement has not been evaluated by the Food and Drug Administration. This product is not intended to diagnose, treat, cure, or prevent any disease.
Write a review
Your Name:
Your Review:
Note: HTML is not translated!
Rating:
Bad
Good
Enter the code in the box below: