海馬補腎丸 Haima Bushen Wan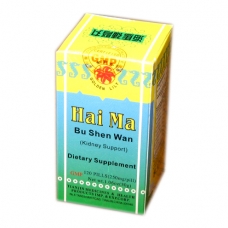 Product Code:
HM-02
Reward Points:
0
Availability:
In Stock
Price:
$7.75
$5.75
Ex Tax: $5.75
This product has a minimum quantity of 12
成份: Ingredients: 核桃仁,當歸,人參,補骨脂,茯苓,丁香,熟地,杞子,山茱萸。 作用: Actions:  滋陰補腎,強壯健腦。用於身體衰弱,氣血兩虧,腎氣不足,面黃肌瘦,心跳氣短,腰酸腿疼,健忘虛喘。 Traditional herbal supplement used by herbalists as general support for optimal body's energy. 警告: Warnings: 孕婦不能使用,不能長期服用或超出建議量,如封印紙有損壞請不要使用.保持密封,存放於陰涼乾燥的地方存放於兒童不能接觸的地方. Do not use during pregnancy. Not for long term use or for use in excess of recommended serving size. Do not use if cap seal is broken, keep tightly closed and store in a cool, dry place. Availability: Usually ships in 1-2 business days. Ship Weight: 1.5 lb. 120 粒 /Pills x 250毫克/mg 根據美國醫藥衛生條例,以上中醫藥理並未經美國食品及醫藥局正式評估,因此,本品不宜作診斷,治療,治癒或預防任何疾病之用. This statement has not been evaluated by the Food and Drug Administration. This product is not intended to diagnose, treat, cure, or prevent any disease.
Write a review
Your Name:
Your Review:
Note: HTML is not translated!
Rating:
Bad
Good
Enter the code in the box below: