強力化痔靈片 High Strength Hua Zhi Ling Tablet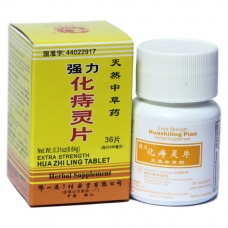 Product Code:
FL-039
Reward Points:
0
Availability:
In Stock
Price:
$7.75
$5.75
Ex Tax: $5.75
This product has a minimum quantity of 12
成份: Ingredients: 黃蓮,琥珀,苦地膽,三七,五倍子,豬膽汁膏,石榴皮,枯凡,雄黃,槐花,烏梅,訶子.Proprietary blend, Chinese goldthread rhizome,Amber,Bunge corydalis herb,Sanchi root,Chinese gall,Pig Gallbladder,Pomegranate pericarp,Alum to Calcine,Realgar,Japanese pagodatree flower,Japanese apricot fruit,Medicine terminalia fruit. 作用: Actions: 有助於涼血,收斂,消炎,促進肛門的健康.Helps promote Anal Health. 警告: Warnings: 如封印紙有損壞請不要使用.保持密封,存放於陰涼乾燥的地方存放於兒童不能接觸的地方. Do not use if cap seal is broken, keep tightly closed and store in a cool, dry place. Availability: Usually ships in 1-2 business days. Ship Weight: 4 oz. 36 片/Tablets x 240 毫克/mg 根據美國醫藥衛生條例,以上中醫藥理並未經美國食品及醫藥局正式評估,因此,本品不宜作診斷,治療,治癒或預防任何疾病之用. This statement has not been evaluated by the Food and Drug Administration. This product is not intended to diagnose, treat, cure, or prevent any disease.
Write a review
Your Name:
Your Review:
Note: HTML is not translated!
Rating:
Bad
Good
Enter the code in the box below: