腰腎膏 Yao Shen Gao Pain Relieving Plaster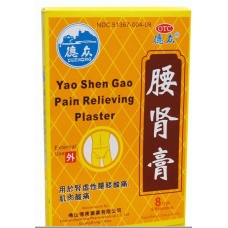 Product Code:
GZ-10
Reward Points:
0
Availability:
In Stock
Price:
$7.75
$5.75
Ex Tax: $5.75
This product has a minimum quantity of 12
成份: Ingredients: Desertliving Cistanche, Chinese Star Anise, Prepared Rehmannia Roo, Malaytea Scurfpea Fruit, Epimedium Herb, Common Cnidium Fruit, Twotoothed Achyranthes Root, Himalayan Teasel Root, Liquorice root, Eucommia Bark, Dodder Seed, Barbary Wolfberry Fruit, Plantain Seed, Fennel, Prepared Common Monkshood Daughter Root, Chinese Magnolivine Fruit, Boswellin, Gum myrrh, Clore, Songaria Cynomorium Herb, Cassia Bark Oil, Beautiful Sweetgum Resin, Excipients : Petrolatum album, Lanolin, Calcium Carbonate. 肉蓯蓉 , 八角茴香 , 熟地黃 , 補骨脂 , 淫羊藿 , 蛇床子 , 牛膝 , 續斷 , 甘草 , 杜仲 , 菟絲子 , 枸杞子 , 車前子 , 小茴香 , 附子 , 五味子 , 乳香 , 沒藥 , 丁香 , 鎖陽 , 肉桂油 , 楓香脂稠膏 , 白凡士林 , 羊毛脂 , 碳酸鈣等. 作用: Actions: 溫腎助陽,強筋壯骨,祛風止痛。腎虛性腰膝酸痛,肌肉酸痛。亦可用於夜尿、遺精、早洩、陽痿等症。For the temporary relief of minor aches and pains of muscles due to: simple backache, arthritis, muscle, aches sprain. 注意事項: Warnings: 1. 本品為外用藥,禁止口服。For external use only. 2. 孕婦慎用。If pregnant ask doctor. 3. 皮膚破損者不宜使用,有皮膚病者慎用。Do not use on damaged skin. 4. 皮膚過敏者停用。Do not useor people with sensitive skin? 5. 請將此藥品放在兒童不能接觸的地方。KEEP OUT OF REACH?OF CHILDREN. Availability: Usually ships in?-2 business days. Ship Weight:?FONT color=#0000ff>0.2 lb. 6 x?.33 g / 克 根據美國醫藥衛生條例,以上中醫藥理並未經美國食品及醫藥局正式評估,因此,本品不宜作診斷,治療,治癒或預防任何疾病之用. This statement has not been evaluated by the Food and Drug Administration. This product is not intended to diagnose, treat, cure, or prevent any disease.
Write a review
Your Name:
Your Review:
Note: HTML is not translated!
Rating:
Bad
Good
Enter the code in the box below: