銀翹解毒片YIN QIAO JIE DU PIAN Tablet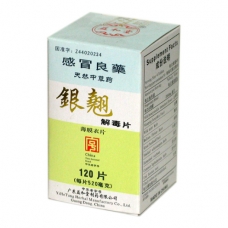 Product Code:
YH004
Reward Points:
0
Availability:
In Stock
Price:
$7.75
$5.75
Ex Tax: $5.75
This product has a minimum quantity of 12
成份: Ingredien: 金銀花、連翹、薄荷、荊芥、淡豆豉、牛蒡子(炒)、桔梗、淡竹葉、甘草。 Honeysuckle Immature Flower, Weeping Forsythia Fruit, Mentha Herb, Chinese Licorice Root, Great Burdock Fruit, Fineleaf Schizonepeta Herb, Prepared Soybean Seed, Common Lophantherum Herb, Balloon-Flower Root 作用: Actions: 辛涼解表,清熱解毒.適應於減輕風熱感冒,發熱頭痛,咳嗽,口乾,咽喉疼痛。Strength Yin Qiao Tablets is Supports the health of the respiratory system, immune system, nervous system, inuses, common cold and the general well-being of the body. 警告: Warnings: 孕婦不要服用.請將此藥品放在兒童不能接觸的地方。 Do not use during pregnancy. Keep out of reach of children. Availability: Usually ships in 1-2 business days. Ship Weight: 0.5 lb. 120 片/Tablet x 390 克/g (薄膜衣片/No Sugar Coating) 根據美國醫藥衛生條例,以上中醫藥理並未經美國食品及醫藥局正式評估,因此,本品不宜作診斷,治療,治癒或預防任何疾病之用. This statement has not been evaluated by the Food and Drug Administration. This product is not intended to diagnose, treat, cure, or prevent any disease.
Write a review
Your Name:
Your Review:
Note: HTML is not translated!
Rating:
Bad
Good
Enter the code in the box below: