鼻眼净 Pi Yen Chin Ophthalmic Drops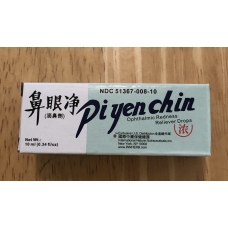 Product Code:
GZ-06
Reward Points:
0
Availability:
In Stock
Price:
$3.85
$3.35
Ex Tax: $3.35
This product has a minimum quantity of 10
作用: Actions: 適應於因過敏而引起的紅眼沖血, 眼睛痕癢, 鼻炎及結膜炎癢等。Pi Yen Chin Opthalmic Drops are decongestant eye drops that provide cool and soothing relief to irritations to the eyes. use Pi Yen Chin Opthalmic Dropsfor temporary relief of the swelling and redness of the eye due to minor irritants such as smoke. smog and glare. 警告: Warnings: 本產品只能外用.不能內服.用后如感眼睛痛楚或視力模糊.或癢狀持續3日.應立即停止使用.及向眼科醫生查詢.避免感染細菌.請勿用手觸及樽口.用后立即蓋回固樽蓋, 如本產品變色.切勿使用.存放在小孩不能拿到的地方. If you experience eye pain or changes in vision, or if the conditions persists for more than 3 days, discontinue use and consult a physician. Do not use this product if you have heart disease, high blood pressure or prostate disorders. KEEP OUT OF REACH OF CHILDREN. Availability: Usually ships in 1-2 business days. Ship Weight: 0.1 lb. 10 ml (0.34 oz) 根據美國醫藥衛生條例,以上中醫藥理並未經美國食品及醫藥局正式評估,因此,本品不宜作診斷,治療,治癒或預防任何疾病之用. This statement has not been evaluated by the Food and Drug Administration. This product is not intended to diagnose, treat, cure, or prevent any disease.
Write a review
Your Name:
Your Review:
Note: HTML is not translated!
Rating:
Bad
Good
Enter the code in the box below: