壯腰健腎丸 ( I ) Zhuang Yao Jian Shen Wan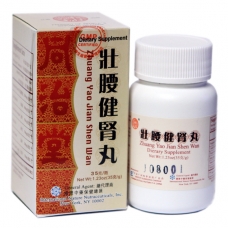 Product Code:
NZY-05
Reward Points:
0
Availability:
In Stock
Price:
$7.75
$5.75
Ex Tax: $5.75
This product has a minimum quantity of 12
成份: Ingredients:
雞血藤.金櫻子,桑寄生,菟絲子,女貞子。 Caulis Spatholobi, Fructus Rosae Laevigatae, Herba Taxilli, Semen Cuscutae, Fructus Ligustri Lucidi.
作用: Actions:
有助於壯腰,健腎,袪濕及緩和膝軟無力,小便頻繁等。Supports the urinary tract health and normal energy, healthy blood, muscles, bone joint, the skeleton and nervous system.
注意事項: Warnings:
如封印紙有損壞請不要使用.保持密封,存放於陰涼乾燥的地方存放於兒童不能接觸的地方. Do not use if cap seal is broken, keep tightly closed and store in a cool, dry place.
Availability: Usually ships in 1-2 business days.
Ship Weight: 0.4 lb.
100丸/Pills
根據美國醫藥衛生條例,以上中醫藥理並未經美國食品及醫藥局正式評估,因此,本品不宜作診斷,治療,治癒或預防任何疾病之用. This statement has not been evaluated by the Food and Drug Administration. This product is not intended to diagnose, treat, cure, or prevent any disease.
Write a review
Your Name:
Your Review:
Note: HTML is not translated!
Rating:
Bad
Good
Enter the code in the box below: